AMENITIES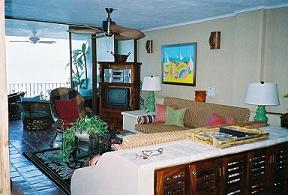 Most people would need nothing more than an oceanfront terrace, cool and

shaded in the mornings, for coffee, breakfast, or a good book; a place to watch the boats go by and the beach to awaken; to watch parasailers glide by; to survey the beautiful bay and green mountains; and finally to soak in a stunning nightly sunset. But we offer also all the comforts of home including air conditioning, full kitchen, marble baths, cable TV, music system, and daily maid service (except Sundays and holidays).

OWNED BY AN INTERIOR DESIGNER

THIS IS A MIDDLE UNIT ON THE THIRD FLOOR

(AMERICANS CONSIDER THIS THE FOURTH FLOOR)

BRIGHT AND AIRY, THE UNIT IS OFF THE ATRIUM AND THE OTHER SIDE OPENS TO A LARGE BEACHFRONT TERRACE

Light and a nice breeze flow through the house. A full kitchen stocked with

refrigerator, stove, microwave, blender, coffee maker, dishes, utensils, glasses, spices, and condiments lets you snack or cook full meals. Two marble baths, two bedrooms, one with a king bed and one with two twins (which you can join), and a living/dining room let you set up vacation home. Three TV's, 2 stereos, a library, puzzles, and games complement the accommodations. Daily maid service (except Sundays and Mexican holidays) keeps your unit sparkling clean. The unit is air conditioned although much of the year this is unnecessary. Upstairs is a rooftop pool, deck, and shaded pavilion with a panoramic view of the bay, the beach, the city, and the mountains. Downstairs is a fabulous restaurant for breakfast, lunch, or dinner. The building has an elevator, 24 hour security, and beachfront palapas with waiters to serve food or drinks.